El Equipo Mazzanti: Giancarlo Mazzanti
El Equipo Mazzanti: Giancarlo Mazzanti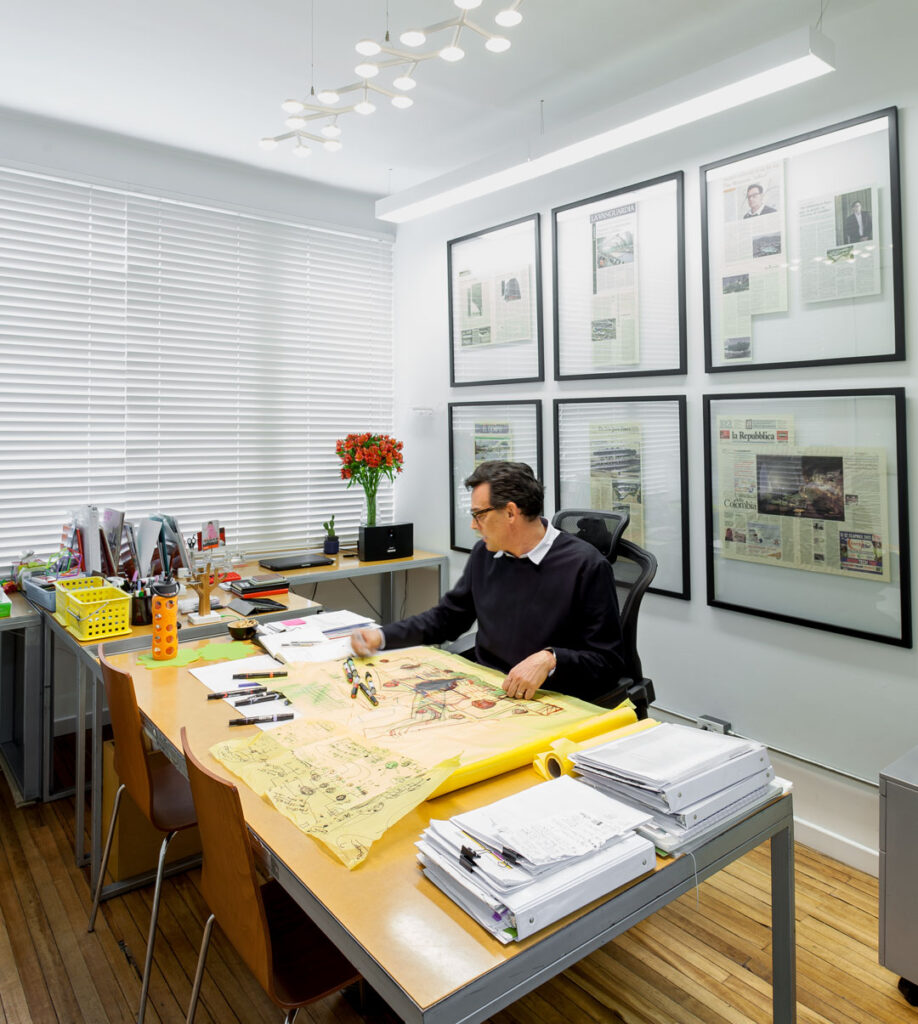 El Equipo Mazzanti, is an organization composed of three initiatives that work together and complement each other: Mazzanti Arquitectos , horizontal Foundation and Jardín Parlante:
• Mazzanti Arquitectos is an architecture studio that has more than 25 years of national and international experience. It has gained notoriety due to its design philosophy based on modules and systems, with which flexible elements capable of growing and adapting over time are generated.
• Horizontal was born as an initiative to develop projects from architecture and urbanism, but that exceed the classic way in which space is thought, and with the aim of promoting the search for security, equality, education, environmental adaptation and social capital development.
• Jardín Parlante is a platform that aims to generate new agreements for innovative knowledge production. It is not a simple list of conferences and publications, but a possibility of generating connections that, in principle, seem unlikely.
Giancarlo Mazzanti
Born in Barranquilla, a port city in northern Colombia, Giancarlo Mazzanti is an architect graduated from the Javeriana University of Colombia, with postgraduate studies in industrial design and architecture in Florence, Italy.
He has academic experience as a guest professor of professorship in numerous Colombian universities, as well as in world-renowned universities such as Harvard, Columbia and Princeton; and he is the first Colombian architect to have his works in the permanent collection of the Museum of Modern Art in New York (MoMa) and in the Center Pompidou, in Paris.
Giancarlo has more than 25 years of professional experience and his studio, The Mazzanti Team, which is located in Bogotá, has gained notoriety due to its design philosophy based on modules and systems, with which flexible elements capable of growing are generated and adapt over time, looking for an architecture that is closer to the idea of strategy than to a finite and closed composition.
This idea of architecture as an operation is born from exploring the different forms of material and spatial organization, taking into account concepts such as repetition, the indeterminate, the unfinished, instability, disposition and patterns.
Social values are at the center of Mazzanti's architecture, who seeks to carry out projects that give value to social transformations and build communities.
He has dedicated his professional life to improving the quality of life through the design of the environment and the idea of social equality.
His work has become a reflection of the current social changes that occur in Latin America and Colombia, demonstrating that good architecture manages to build new identities for cities, towns and inhabitants, transcending reputations of crime and poverty.